Besides Burgers and Beers
Company Events as a Culture Indicator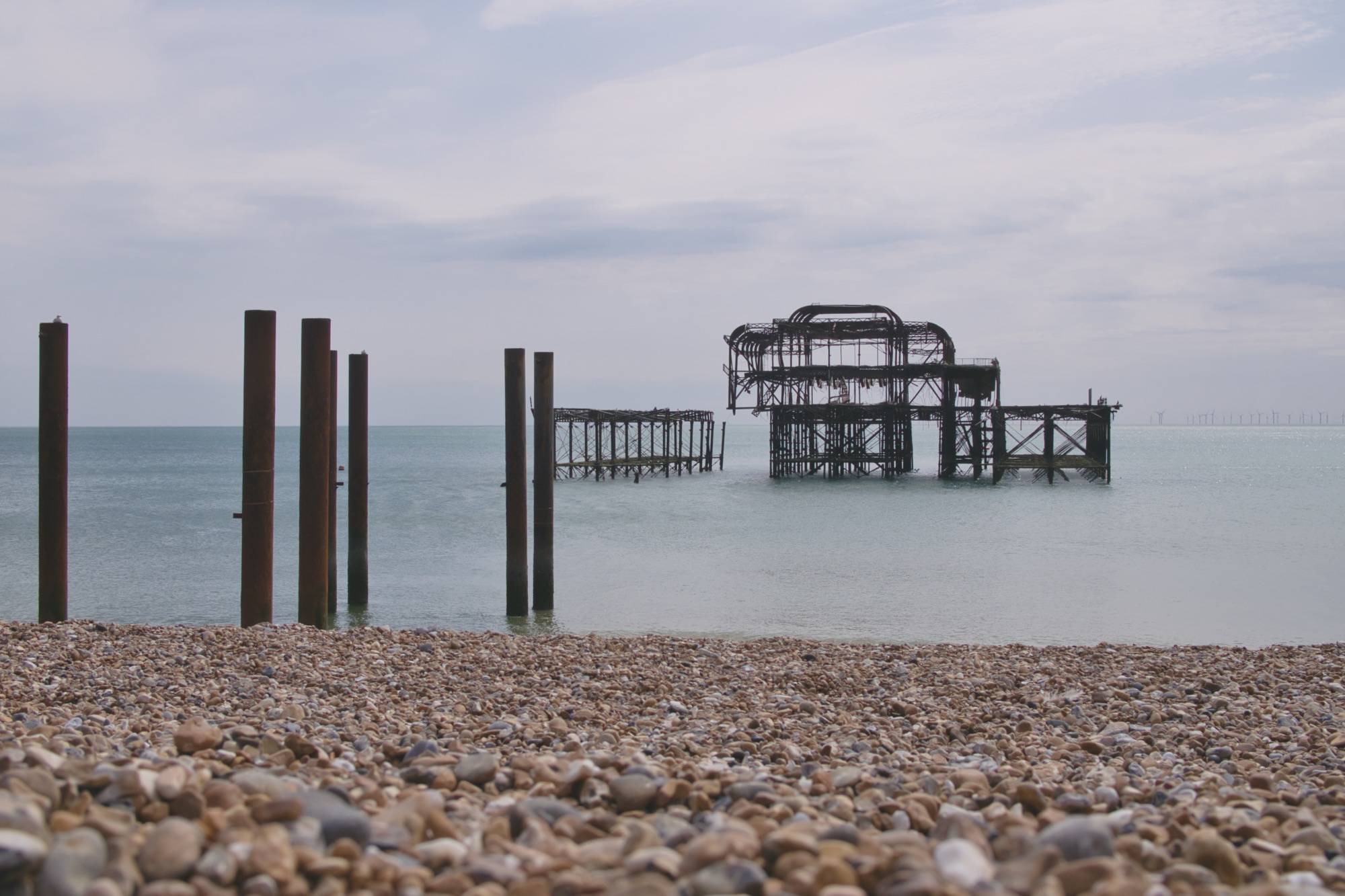 To be honest, I don't know if Brandwatch is still a startup; especially after the merger with Crimson Hexagon. Well, at least I'd say that their culture is very similar to that of a startup. Since this was my first experience in such a company, I would like to recap my time there in the context of culture. Actually, I wanted to publish another article about 'company events as a culture indicator'. As it turned out, both topics can be easily reconciled. Even if the latter can only be read between the lines.
First, I'd like to add a bit of context. As already mentioned in previous articles, I wrote my master thesis in cooperation with Brandwatch. That's why I spent my time in the Stuttgart and Brighton offices, which couldn't be more different in terms of structure and headcount. While Stuttgart consists mainly of about two dozens developers, Brighton accommodates about 10x as many people from all departments. I have learned a bunch of lessons at both locations which motivates this article. I'd like to portray the learnings with some story-telling.
Although I've learned a lot about regular company events such as townhalls & summits, used software, career ladder and methodologies, as well as my first data science experiences, these won't be part of this post.
Family ⋂ Friends
A Network with Rituals like at Home
To put it in a nutshell: I felt comfortable from day one; in both offices. In my opinion, the hierarchies are very flat and almost like a medium-sized agency. Sure, in Brighton with over 200 colleagues I felt a bit lost at the beginning, but that's quite natural given the size. Also the executives — by this I mean first and foremost the board — had a lot on the agenda and a busy schedule. Nevertheless, some kind of inner network emerged relatively quickly, which surprised me at first but I still appreciate it very much until now. Something emerged that cannot be faked and needs to grow organically.
Well, how did this special something come about? I remember well, I had only been in Brighton for two weeks while there was the annual Fringe Festival. After work about a dozen Brandwatchers of very different rungs of the career ladder went to the festival's Spiegeltent. Once there, I talked to colleagues, the CEO, his daughter and son about anything and everything: Brandwatch, Brighton, the surprisingly good British weather, the upcoming World Cup, my thesis, the absurd German grammar and much more. The topics aren't important, but that people really liked to spend time together outside the office, that they are connected by their passion for the company and that hierarchy didn't play a role at all. I really enjoyed it and stayed until the end.
I already had experienced such cosy get-togethers in Stuttgart; moments in which colleagues fused with friends. No matter if it's mini golf, bouldering, checking out escape rooms, watching soccer (it's coming home) or just a beer after work, these were activities I usually do with friends. In addition, there have been rituals such as weekly collective breakfast or generally having lunch together. Rituals that let colleagues grow together and strengthen the community.
The Family Gathering
Finally, I would like to share some insights into my personal highlight that perfects the experience: the Global Brandwatch Day (actually, it was a whole week) — a meeting of the Brandwatch family in Brighton. Not only did the organisation team do a really great job there, but Brandwatch also proved what they were made of. I would like to highlight a few aspects below.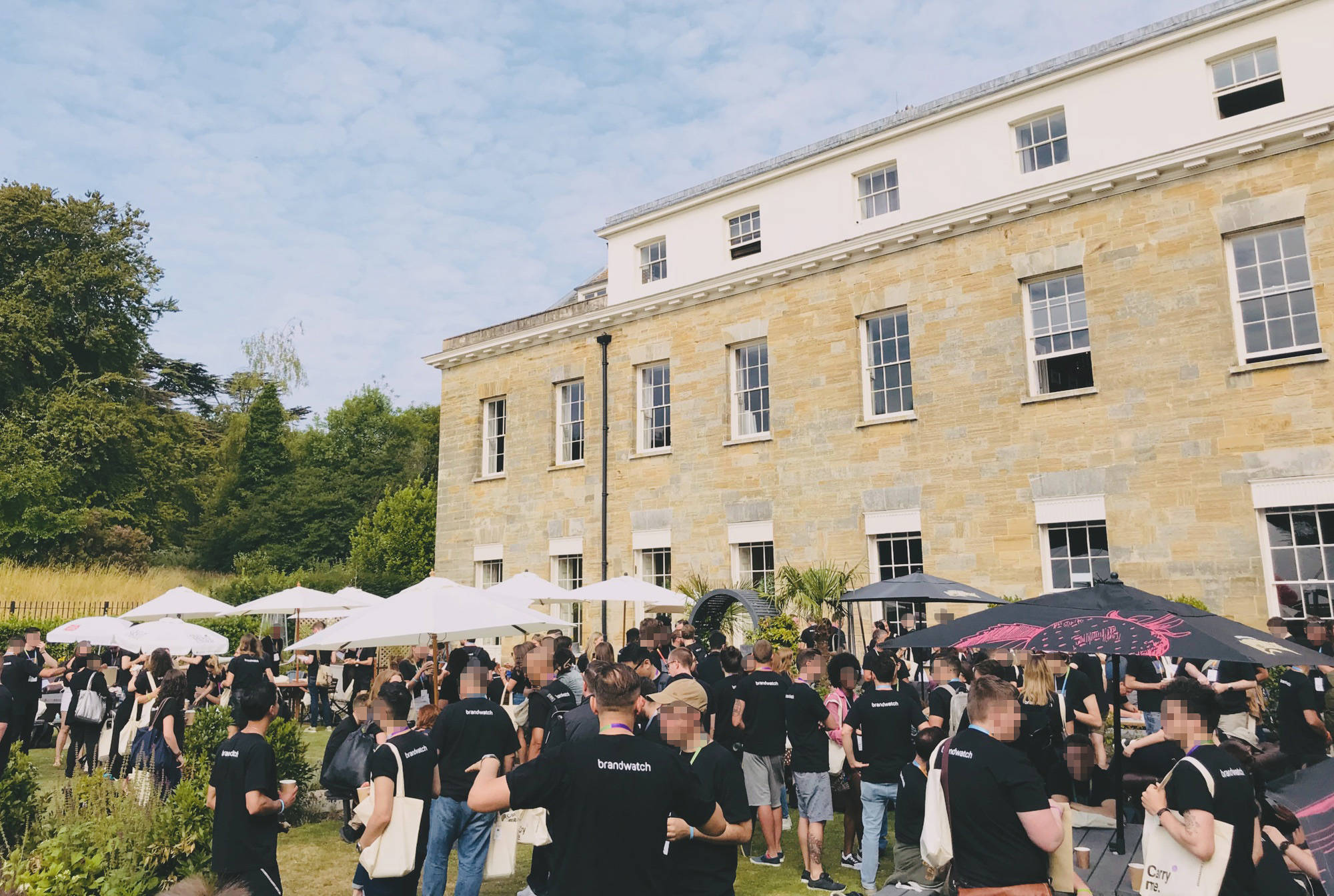 #gbd2018 event location
Besides all the events, activities, the soccer tournament and the usual gatherings in the evening with different folks, the quarterly Engineering Summit took place next, where not only the latest achievements of the teams were presented, but also the vision and goal for the next years. It was incredibly impressive to get an insight into the all projects. Even those that are not customer-facing but important.
On the actual #gbd2018, we went to the Stanmer House with several double-deck coaches. The Hyper Island team started to bring the hundreds of people closer to each other with some advanced getting-to-know games. Discussions about the company's values were an essential part of the event. As already mentioned, I'm skeptical regarding such values and consequently this item on the agenda. What followed, however, has revealed how colleagues and the management interpret these values — unexpected but really interesting. The entire program was accompanied by activities and games, including an own Ferris wheel and a retro ice cream van. Giles Palmer's emotional speech concluded the day before the bar opened and the party of the year began. The next morning's Beachy Head hike with some colleagues perfected the whole week.
What have I learned during this week? First, that Brandwatch has managed to create a culture and atmosphere where people feel comfortable being themselves. Second, that many colleagues actually identify themselves with the values. Third, that it is really one community which sticks together and is almost like a family.
Reciprocal Impact
Even if the hierarchies are flat, they are of course not small due to the fact that there are several locations and departments worldwide. However, the structures have been designed openly. In other words, as soon as you wanted to take influence and network, that was no problem at all. It was easy for me to get an insight into other people's day-to-day work and to discuss my own ideas. I already wrote about this in detail in my first article, which outlined how you can go beyond your own nose within the company.
Especially due to the very busy schedule of the leadership team, it might seem as to be far away. In fact, they were closer to one than one was sometimes aware of. It just was not always obvious. This resulted in a phenomenon, which I noticed in the conversation with my supervisor. I had been working at car2go for several weeks but stopped by for a moment. We talked a bit about Brandwatch and the merger announcement. Every time I talked about Brandwatch, I used 'we' and 'us' as if I was still a part of it. Of course, I'm formally not any longer, but — attention, getting soppy — Brandwatch has become at least a part of me. It's impressive to accomplish this within half a year. Please, don't get me wrong, I definitely feel the same for car2go.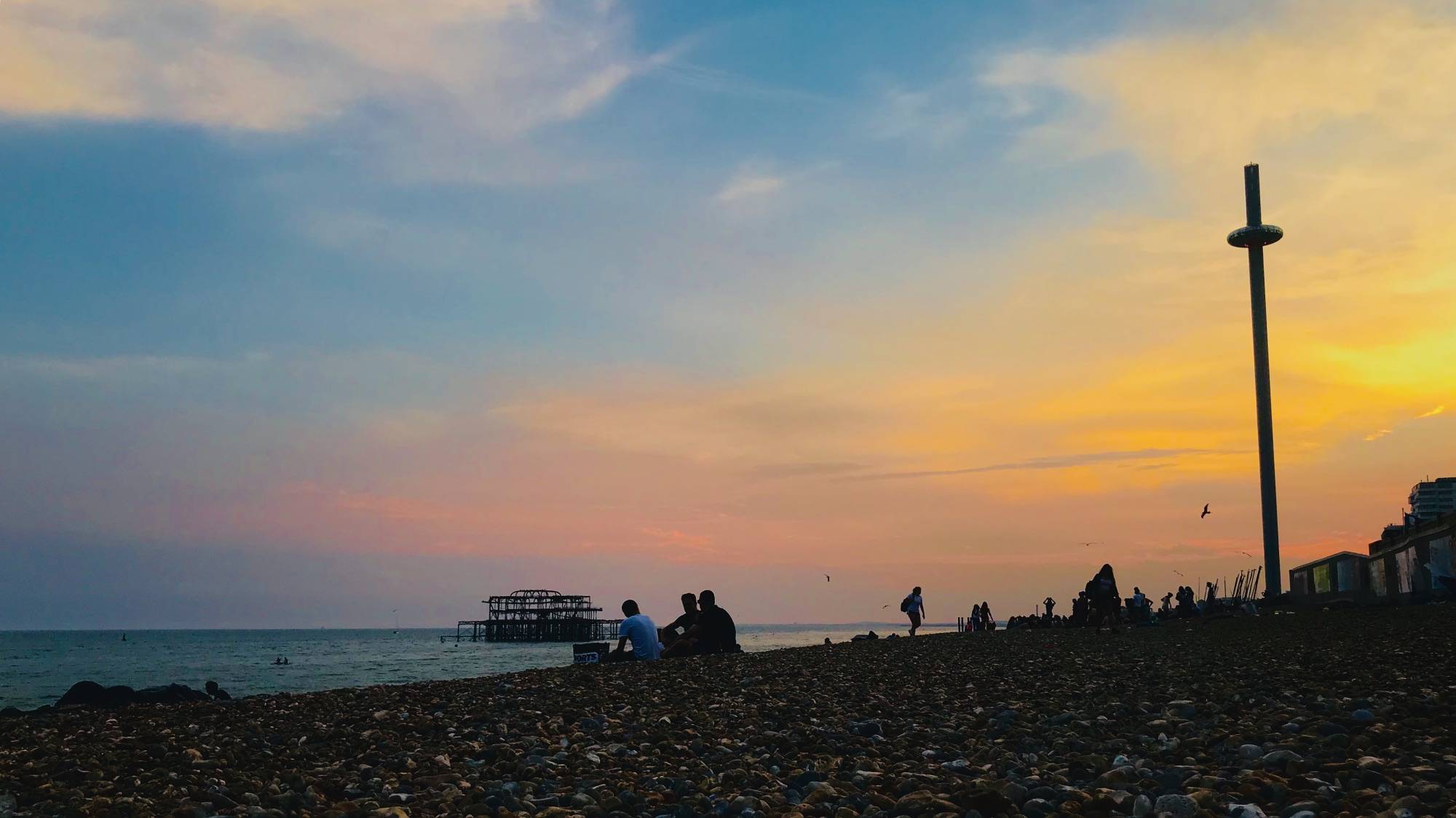 It's Lovely, Isn't It?
The usual way would be to summarise the article, but this time it's up to you to figure out what you want to take from it. However, in order to end the whole thing at least a bit, I'd like to say that I'm incredibly grateful for the experience I've gained; it has opened my eyes in so many ways. My most sincere respect to the management and all Brandwatchers. You have created something that unites two aspects. First, developing and delivering great products and services. Second, establishing a unique culture where one feels comfortable and welcome.
By the way: no matter if you like the i360 tower or not, but sitting on the beach after work with a beer, snack and colleagues caps it all. Next time you're in Brighton, I highly recommend the Benetton Burger at Burger Brothers. I don't want to exaggerate, but it tastes like heaven. With this in mind, I say goodbye being very hungry and yearning for the summer in Brighton.
Merry Christmas and a Happy New Year!
Cheers,
Felix