Take Note of Me
Make Knowledge Organisation Fun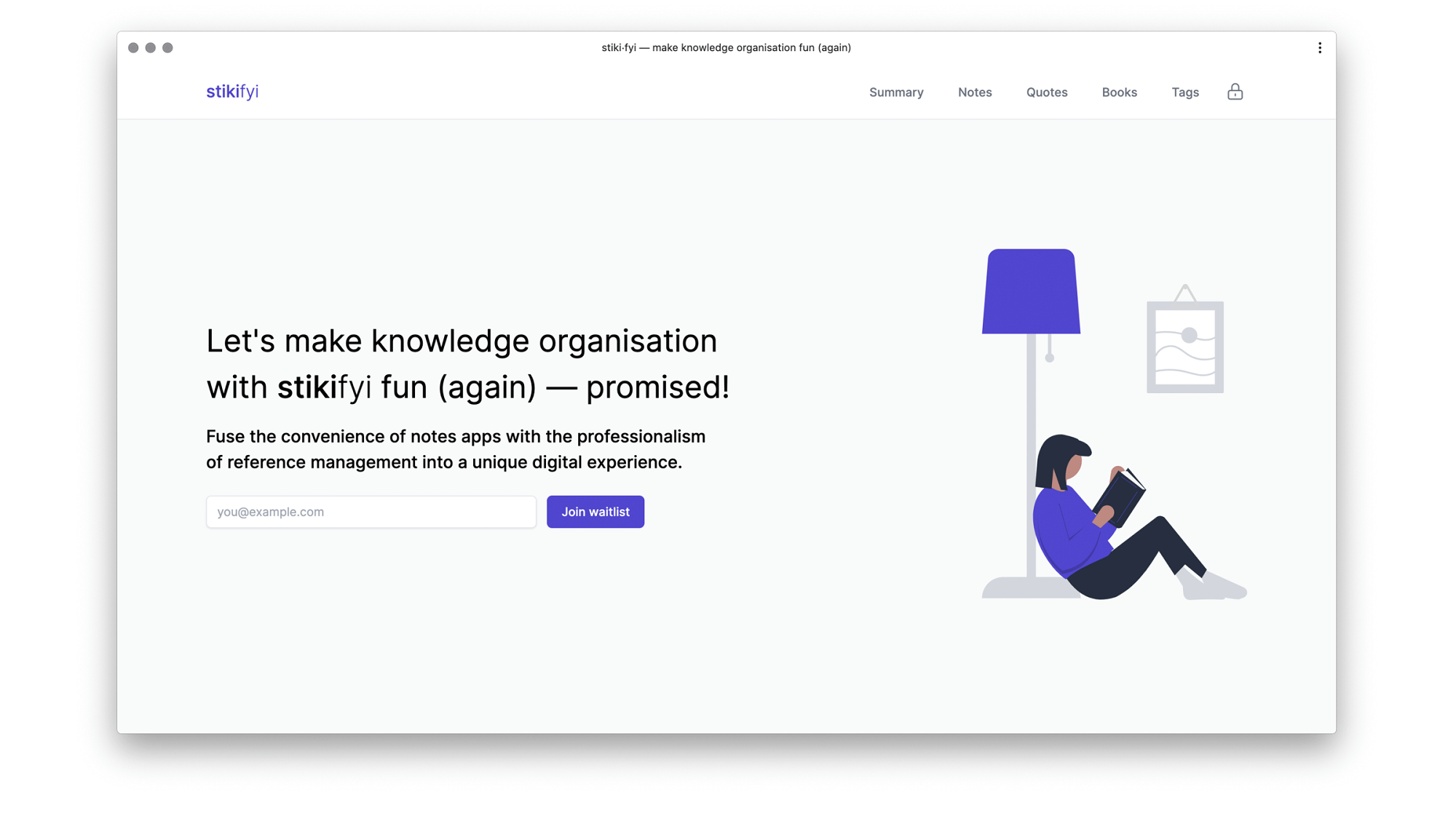 Personally, I am passionate about reading — previously thrillers and historical novels, today, textbooks matching the topics of this blog. However, in recent years, taking and organising notes has been quite a hassle, involving more work than benefit. The Corona lockdown made me finally tackle it and do it better. In the following, you will learn how my new 'product' makes organising notes and thus knowledge a joy again.
---
First of all, I heartily hope that you, your families and friends are doing well despite the current circumstances, no matter where you are. Times are challenging and confront us with extraordinary conditions, in both private and professional life. Therefore, take care of yourself and your loved ones. If there is anything I can do for you, let me know.
I am aware that the crisis is not an opportunity for everyone, but it helps me to play around as a developer. Last weeks, I spent many nights on the prototype of what is now called stiki·fyi, an app that fuses the digital power of note and reference management apps with the simplicity of sticky notes.
Life cannot be just about solving one sad problem after another. There need to be things that inspire you, that make you glad to wake up in the morning and be part of humanity. Elon Musk
My Pride and Joy
I haven't been so proud and happy with a project I have been working on in a long time. For this reason, I would like to introduce the product idea below and take you on a short tour through the application. Currently, this product is designed for me as a single user but can be opened up as a platform quite easily. Join the waitlist, and in case of appropriate demand, I will be happy to explore the possibilities.
I have been through it all. The common pre-installed but also paid note apps, index cards in the books, markdown files and finally generated PDFs. They all had one major issue, I had to decide how to categorise my notes: by topics/subtopics or source/reference. Mostly I followed the former approach and assigned references to the corresponding sections, which were then resolved accordingly; precisely as it is known from academic publications. So I had at least only a few duplicates and everything about a topic always in one place. But what if one wants to reread all notes of a book in summary or share them with others? Nearly impossible. Time for change, isn't it?
Sources First
All notes are obviously based on sources. Usually one immediately thinks of books, but stiki·fyi takes it a step further. As a first entity, there are so-called tags, simple keywords that can be grouped into topics, organisations and events. While the former is mostly self-explanatory, the latter are meant to complement books. After all, don't we also use events such as workshops or conferences as sources? Or former employers as inspiration? Now it is easily possible to label those notes as well in a proper way.
Nevertheless, books as the main sources are described in more detail, e.g. with topic, rating, authors and the year of publication. As known from the popular tools for managing references, the books' reference codes are generated automatically. Super straightforward, no need for further explanation.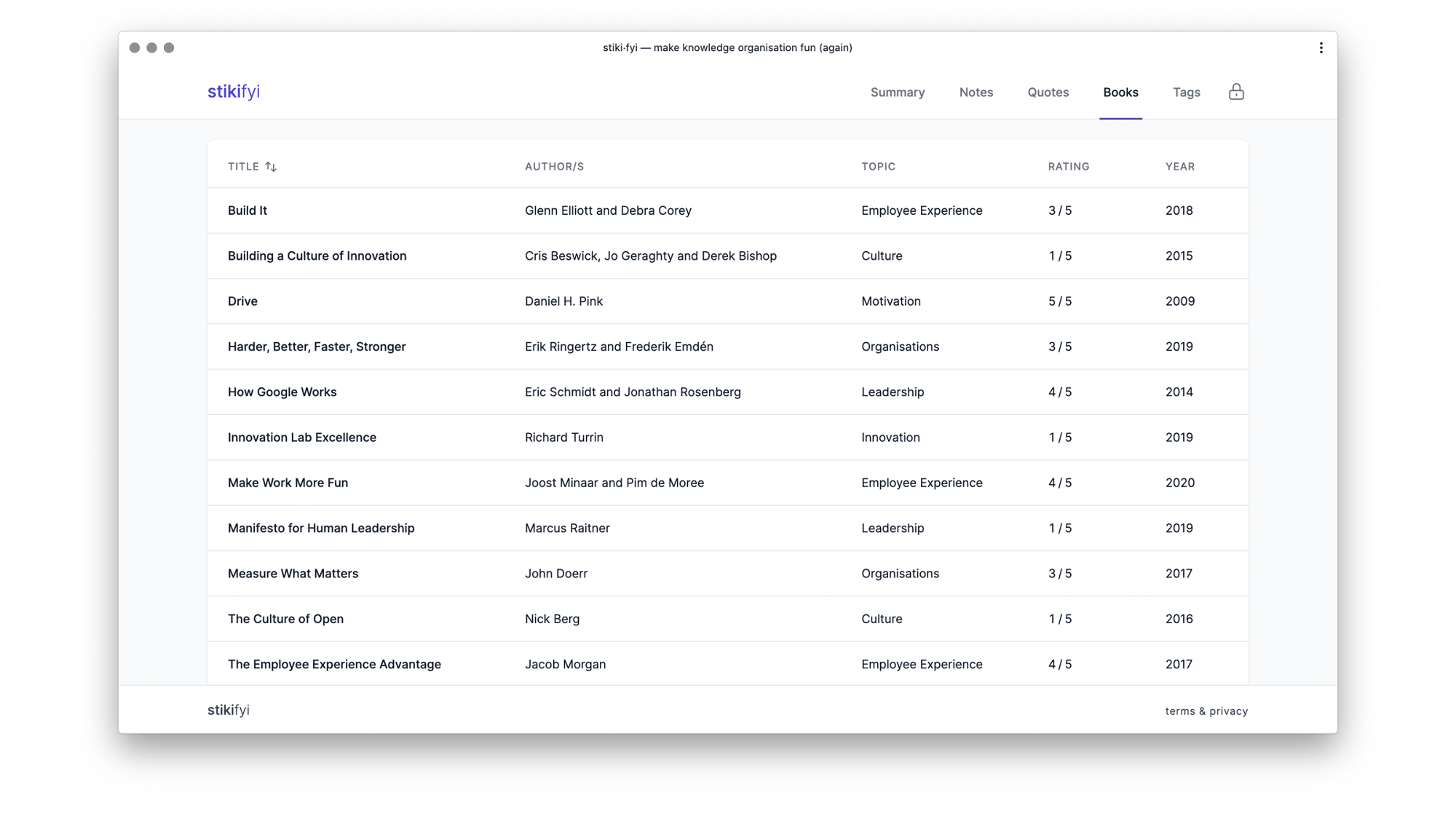 Who Said What
Some paragraphs appeal to you so much that you want to save them literally or in a transferred sense as a quote? No problem! The tool allows you to quickly store everything in a loose structure with just a few clicks. Unknown author or book as a source? No problem at all! You don't know when precisely the quote was said? No problem either, as you have all the freedom you need.
Whenever you want to share the quote with others, it only takes two clicks, and you have a ready prepared text snippet in your clipboard despite loose data structures. Sounds already quite convenient, right?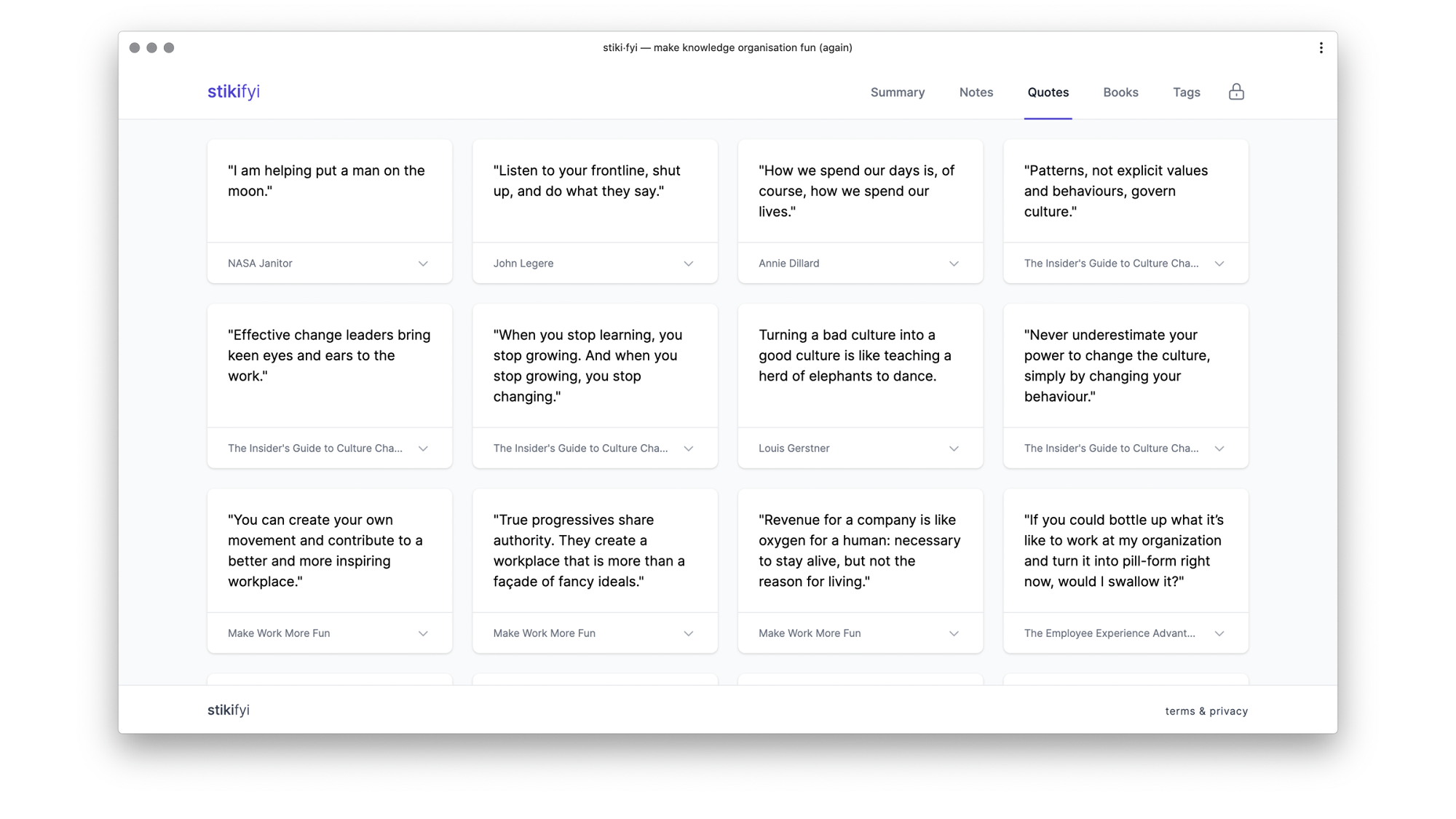 Stickies FYI
The real fun starts with your notes, even if the simplicity of the user interface is already a pleasure. Notes can be categorised in the previously defined topics so that they can be structured as needed. Flat structures ensure a good overview, short descriptions of the individual subtopics offer the right amount of detail to find the right notes.
Notes are simply markdown files that can either be created manually or uploaded via drag and drop. You don't remember the reference code of your source? That is a concern that stiki·fyi takes care of. A simple menu and keyboard shortcuts insert the right references at the right places. There's no need to leave the text field or even the tab — all in one place. Those references are resolved at the bottom of the document, and the notes can finally be downloaded as a file.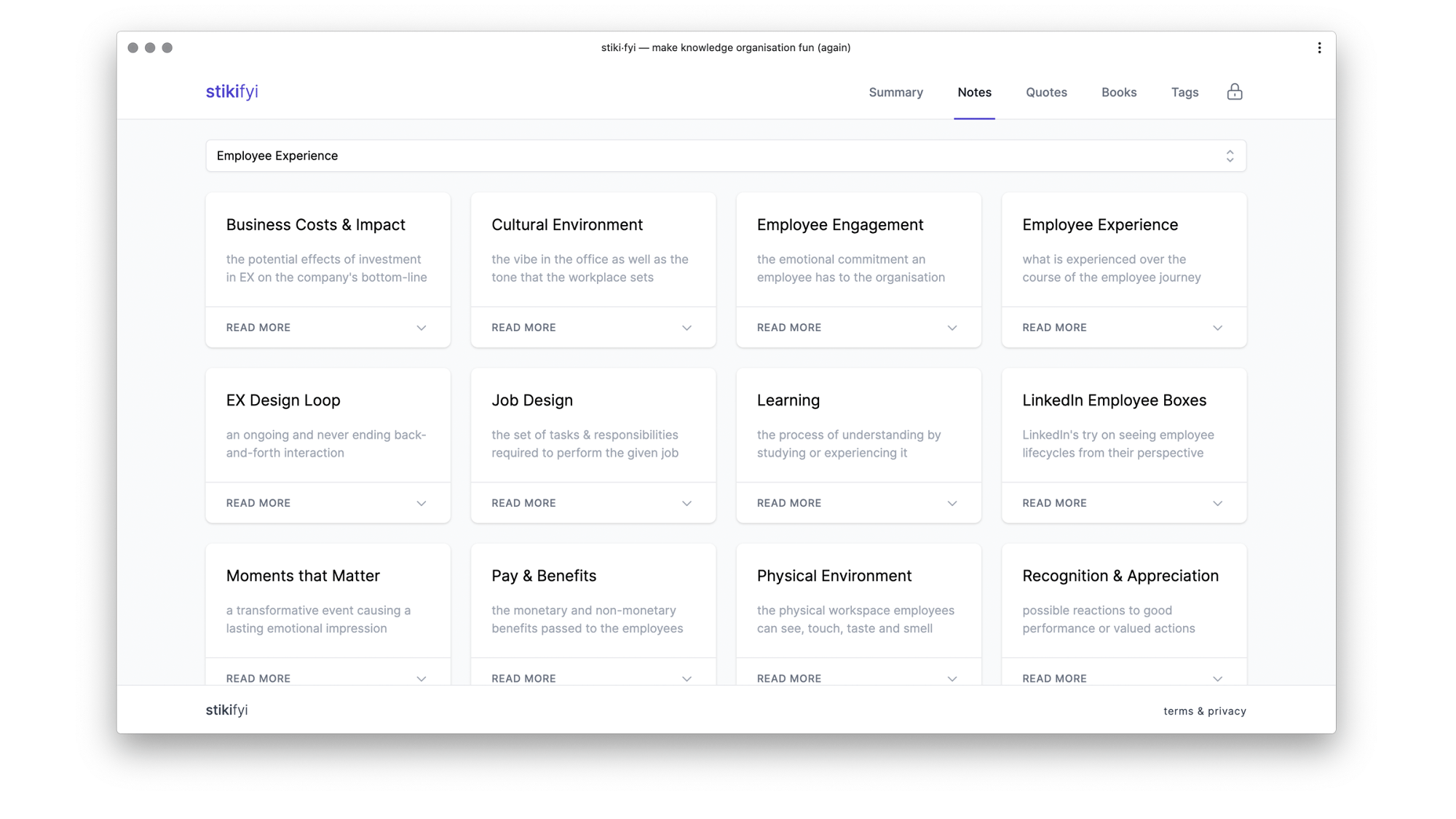 Shareable Summaries
In the beginning, I mentioned that the previous problem has been that I need to decide on a type of categorisation. stiki·fyi handles this by using smart summaries. Whenever you see a tag, book or reference you want all the notes on, just click on it and we'll do the rest. Out of all your notes, we'll find the sections, lines and lists that match the source. That way, you have everything at a glance and can share your notes on a book or event with others. By clicking on the related breadcrumbs and quicklinks, it is possible to directly access the complete notes.
To prove this, take a look at the notes of a book I recently read or let luck decide. This feature tops everything else and kind of sets it apart. You don't have to decide on a categorisation; you have all the options you need.
Join Us
For now, this is a short written tour through the product — please feel free to book an interactive demo in which all your questions can be answered, and your curiosity can be satisfied. Several people are already on the list, and the feedback so far has been overwhelming. Join us, and let us revolutionise the way we organise notes & knowledge. Would you like to help us beta test the soon-to-be platform to provide the best user experience possible for everyone? Every thought matters, so feel free to drop me a line.
In the meantime, try the read-only version of stiki·fyi for yourself. One thing is already embodied by the app today: it is public-only. Knowledge should not be locked away. Let us share it and jointly learn from it. Stay tuned and most importantly, healthy.
Cheers,
Felix